155th Lodi Agricultural Fair in Lodi Wisconsin
Welcome to the Lodi Agricultural Fair located in the scenic valley of Lodi, Wisconsin. For four days each summer, our community of 3,000+ opens the fair gates to exhibitors, volunteers, and visitors of all ages for some old-fashion family fun. This open fair is free of gate fees, exhibitor fees and stalling fees, making it easy for you to be one of over 450 exhibitors or over 10,000 visitors each year. Visit with our 4-H, FFA and other youth exhibitors as they showcase projects from the beef, swine, sheep, dairy, rabbits and poultry departments. Stroll through the Junior, School and Open Class buildings to view over 2000 projects from art to woodworking projects and there is plenty to see in between. Make sure you "taste" your way around the fairgrounds as we have wonderful food selections. For the ride seekers, we offer carnival rides for the whole family and watch for pre-fair discounts. In the evening, enjoy an Old Fashion Horse Pull, Demo Derbies, and Truck n Tractor Pulls in our grandstand. Remember there is live music for all ages. Be sure to follow us on Facebook and check our Event Schedule for updates on this site often, you won't want to miss a thing at this fair.
Remembering the past, Building for the future ....
Fair Location
700 Fair St, Lodi WI 53555
(608) 592-4499
The Lodi Agricultural Fair has something for everyone - young and old alike.
The fair starts with an Old Fashioned Horse Pull and finishes with our popular Truck and Tractor Pull.
Our Demo Derby is Friday and Saturday night. The competitors drive stock midsize, compact, 1/2 stock trucks, pro trucks and pro open full size vehicles.
The softball tournament that spread across two days is for Lodi High alumni only.
​
Attn: 2021 Livestock Exhibitors Updates!
***All On-Line Entries must be received by Aug. 1st, 2021 to be eligible to exhibit at the 2021 Lodi Agricultural Fair! Make sure you complete your entries entirely, then hit the SUBMIT button. You cannot make changes after it has been submitted. If you do not SUBMIT, the transaction is not completed and we will not receive it. After submitting, the Confirmation email will be sent for you to proof and print out your list of entries.
***For Exhibitors to be eligible to show in the Championship Drive of any species or have an animal eligible for the Meat/Animal Sale, that animal must have been exhibited by the actual exhibitor and not a substitute.
***Livestock Exhibitors are required to declare their final stalling count to the Lodi Fair Office by August 18, 2021, so there will be enough stalls for all the fair animals. There is a mandatory Livestock Exhibitor meeting during fair week on Thursday eve at 6:30pm in the Indoor Arena for all exhibiting Livestock each year.
***2021 YQCA certification is required for this year's fair. It can be done on-line. The exhibitor should have a paper copy with them or a photo on his/her phone to present to the Department Superintendent. More Info under the Exhibitor tabs.
***Livestock ID-includes a Tatoo, or EarTag # legible from 2 feet away. RFID tags will be scanned and accepted.
***There will be a Meat/Animal Sale. Please contact your buyers and meat processors to make arrangements ahead of time, as you are responsible for finding a home for your animal project.
***2021 Lodi Fair Rules are found under the on-line Premium Book. Important Exhibitor Information is found under the Exhibitor Tab. Please watch this website and the Lodi Ag Fair Facebook page for additional updates!
***IMPORTANT 2021 Lodi Ag Fair Schedule Changes for Sept. 2nd- Sept. 5th Fair***
All Exhibitors… On-line Entries will be open July 1st to August 1st for 2021 only! No late entries will be accepted.
The Lodi Fair Premium Book is open for viewing only. Drop off Entries schedules remain the same as a regular fair week.
Livestock Exhibitors: Only the Rabbit Show has been moved to Saturday morning at 8:30am in the Rabbit Tent. The rest of the Animal shows remain in the same time slots.
Grandstands: Truck & Tractor Pull is moved to Thursday eve, Sept 2nd by the Grandstand.
An Outdoor Family Movie will be shown in the Grandstand on Sunday eve at dark (around 7:30pm) the last night of the fair.
​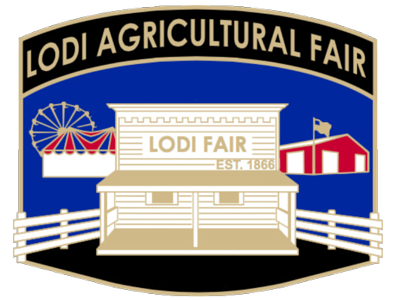 2022 FAIR DATE:
July 7-10
, 2022