2018 Senior Showmanship Champions
Each year the Senior Showmanship Champion from each species/department is offered the opportunity to compete for Master Showman title and for some great prizes. The competition consists of each finalist exhibiting all six different species and are judged by the knowledge and handling of each animal. Each exhibitor is unfamiliar with the animals, as they have not been previously trained nor exhibited at the fair by the finalist for this competition. It is a lot harder than it looks, so it makes for a great competition and a fun way to educate those younger exhibitors and the public. This event is held on Sunday morning at the fair. Thank you to Compeer Financial for the embroidered chairs, and winner's jacket, and all the other businesses who donated to the finalist prizes.
The 2018 Master Showman Finalists are: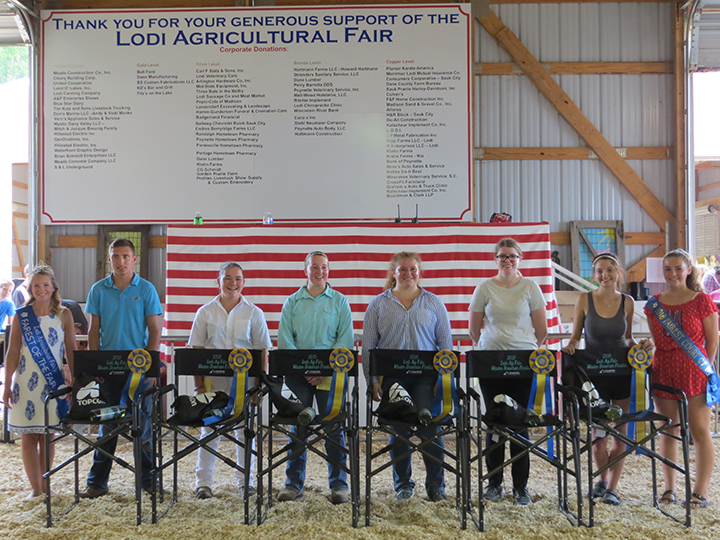 Pictured from the left to right are:
Emily Matzke-the 2018 Lodi Fairest of the Fair
Jake Collins – Swine Dept
Melissa Sprecher- Dairy Dept...The overall winner, 2018 Lodi Agricultural Fair's Master Showman
Heather Nehls – Beef Dept
Hannah Schultz – Sheep Dept
Sierra Stensrud – Poultry Dept
Erica Camarato – Rabbits Dept
Hailey Richardson – 2018 Lodi Fairest Honor Court
Melissa Sprecher- 2018 Lodi Agricultural Fair's Master Showman
_________________________
Stars of the Fair
The Stars of the Fair is a new event for specifically-challenged students. Under the guidance of their 4-H or FFA mentors, a parent and their caseworker, each one was able to experience exhibiting an animal at our fair in a safe environment. The students are from the Lodi and Poynette school districts and met several times with their animals and their mentors to train prior to the fair event. The Stars of the Fair demonstrated to a full audience how to exhibit a rabbit, chicken, pig, sheep and dairy calf. The audience shared their fun and excitement by rewarding them with much applause and some tears of joy. This event is also held on Sunday morning before the announcing of the Master Showman winner. Thank you to all the exhibitors, mentors, parents, the caseworkers and Dawn Collins for helping us to bring this event to life on our fairgrounds, as well as, the prize donations from the Lodi FFA Chapter.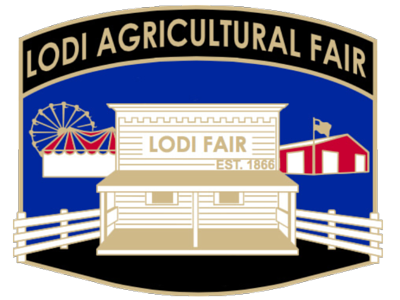 2023 FAIR DATE:
July 6-9
, 2023