Exhibitor Information
GENERAL EXHIBITOR INFORMATION
MORE INFO CAN BE FOUND UNDER EACH SPECIFIC TAB UNDER EXHIBITOR ON THE WEBSITE AND AT THE BEGINNING OF EACH DEPARTMENT IN THE PREMIUM BOOK. Please remember Junior Classes all have the Department number followed by the letter "J" and you must be a youth exhibitor and a member of a youth club to enter these classes. Open Classes are in the 100's and the Senior Classes are in the 200's. Not all lots are offered in each age group. Watch the year on top of each page for the most current info. Jr Exhibitors exhibits will receive a ribbon and premium, but Open Class and Senior Classes only place 1st to 4th place with a ribbon and premium. All our entries are on-line, premium books are no longer printed. Our on-line entries are open up for 1 full month. Your entries must be submitted by the due date. No late entries will be accepted.
Style Revue & Demonstration Schedule
The Jr. Style Revue (Dept 26) and Jr Demonstrations & Talks (Dept 31) will be held Tuesday eve of fair week at 6pm in the Jr. Exhibit Hall. Judging will start promptly at 6:30pm. Please contact Lori Ripp, Jr. Exhibit Hall Superintendent at (608) 695-7770 for questions regarding this event.
IMPORTANT NOTICE to all Junior Livestock Exhibitors
Please check the Schedule of Events for the most current information regarding the Livestock and Small Animal Shows and their time slots. Please refer to ALL the Livestock Exhibitors' tab for all the current info regarding each species and Department Classes in the Premium Book.
Premises IDs Codes
If you are entering livestock in the Lodi Agricultural Fair (dairy, beef, swine, sheep, poultry, horse) it is a Wisconsin State requirement that a Premises ID be on file with the Fair Office. The link for Premise ID www.wiid.org or call (888) 808-1910. You must have a current Premise ID to exhibit any animal at any fair in this state. If you house livestock animals at more than one location, please provide Premises IDs for all locations. Only Rabbit, Dog and Cat entries do not require a Premises ID number/code.
All Livestock Exhibitors are required to have Youth Quality Care for Animals (YQCA) certification before exhibitor can show and sell in the Lodi Agricultural Fair Meat/Animal Auction. This is a MANDATORY Wisconsin requirement for all livestock exhibitors at fairs. (MAQA certification no longer, YQCA certification replaces it.)
Rule for "mature" exhibitors
An exhibitor may NOT enter exhibits in both the Open and Senior citizen divisions in the same year. If an exhibitor enters in both Open and Senior Citizen divisions, the Senior citizen division entries will not be judged.
If you still have questions regarding exhibiting at the Lodi Agricultural Fair, please contact us by email secretary@lodiagfair.com or call us at 608-592-4499 or visit us on Tuesday and Thursday eves from 6pm to 8pm and Saturday mornings from 10am to Noon the month before and during the fair. We are happy to assist you.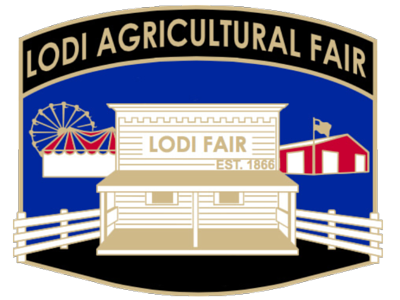 2023 FAIR DATE:
July 6-9
, 2023